Everything from Connectors to Earth Stations!
Customers can ask us for the smallest parts while other requests are for complete earth station antennas. After more than thirty years in the business we either carry, or know where to find just about anything!
Selling is not a single action; behind each sale there is testing, shipping and warranty. Testing means nothing if we ship badly packed equipment that is destroyed in transit. Warranty means nothing unless you can be sure that we will be there to help if it is ever required. Years of service in the industry and thousands of satisfied customers speak for us.
Many of our sales are international and the US Government requires paperwork that allows the export of the item. We will complete the paperwork and present the equipment properly packed to either your carrier, or we will handle the entire shipping process on your behalf.
Proper testing of equipment is as important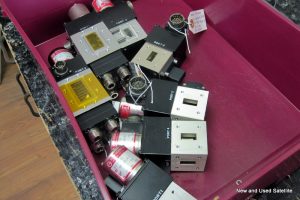 to us as it is to our customer. Our warranty states that for any item, we will repair, replace or refund if a problem occurs during the warranty period. If we have to supply a replacement part that expense will probably take any profit from the transaction and so we do our utmost to be sure that the equipment is fully tested before shipping.
Even with the most thorough  testing, and the most careful packing, a customer may occasionally have an equipment failure. When this happens, the customer can be secure knowing that we have never turned our back on a problem.